Perception Sensors in Adverse Weather
Simulation-based testing supports the challenging task of safety validation of automated driving functions. Virtual testing always entails modeling of automotive perception sensors. In the real world, these sensors are exposed to adverse influences by environmental conditions like rain, fog, snow etc. Therefore, such influences need to be reflected in the simulation models, but prior to modeling, they need to be systematically assessed in the real world. This data set consists of measurements in a static test setup over the course of 6 months in fall, winter and spring containing weather conditions like rain, snow, fog and direct sun light in different intensities.

The dataset including further meta data is available for free from TUdatalib.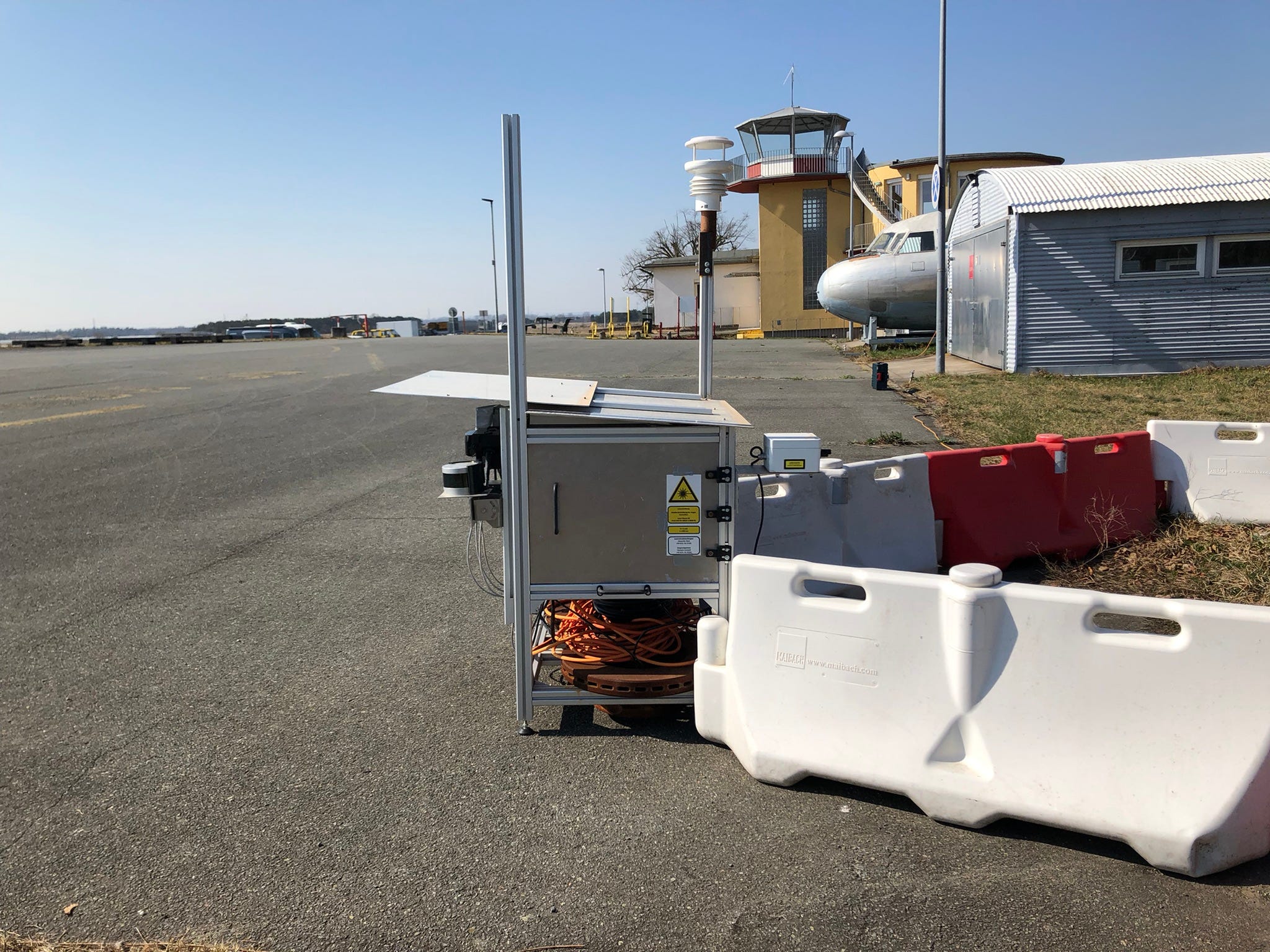 Test Setup
The test was setup on a free area on the August-Euler-Airfield in Darmstadt, Germany.
The first element of the test setup is a measuring station, where automotive perception sensors and weather sensors as reference are connected to a measurement PC. All sensors are integrated into ROS with an automated triggering routine. This routine triggers measurement recordings depending on different weather sensor readings, like precipitation intensity or at certain visibility thresholds in foggy conditions.
The second element of the setup consists of multiple reference targets for radar and lidar at distances of 50 to 70 m. These targets provide defined reflectivities to compare the influence of different environmental conditions on the intensity readings of the perception sensors.
Sensors
The measuring station is equipped with the following perception sensors:
1 Aptiv ESR 2.5 Radar
1 Blickfeld Cube 1 Lidar
1 Ouster OS1-32
1 Velodyne VLP16 Lidar
and the following reference sensors:
1 Thies Clima Weather Sensor
1 Mini PWS Fog and Precipitation Sensor
1 OFS Fog Sensor

A description about the corresponding ROS topics of the sensors can be found here.
Statistics and Usage
The data set covers 2280 minutes of sensor recordings with synchronized reference measurements in 4 categorized environmental conditions. Data was recorded from October 2021 to March 2022. The highest measured rain intensity was 90 mm/h and the lowest visibility in fog was 500 m. Sun brightness values range from 0 to 45000 lux.

To unpack the split zip archives, first download all archives from one category, e.g. snow into one folder. Under Linux, you can re-pack these split archives into a single one with the command zip -FF snow.zip --out snow-full.zip and then unpack it as usual.
Clemens Linnhoff
Research Associate
Kristof Hofrichter
Student Assistant
Lukas Elster
Research Associate
Philipp Rosenberger
Research Associate
Hermann Winner
Former Head of FZD